Tall buildings and structures pose a serious risk to airplanes and other aircraft while in flight and passing by. For this reason, building administrators are required to install aviation obstruction lighting (AOL) so pilots can detect obstacles in their path. 
What Is Airport or Aviation Obstruction Lighting?
Aviation obstruction lighting is a lighting device used to improve the visibility of fixed obstacles or structures that may conflict with the aircraft's safety navigation. They are also called Aircraft Warning Lights (ACWL).
They are commonly installed on buildings, towers, and fences where airplanes operate at low altitudes. Obstruction lights are essential in ensuring that tall structures are visible from a distance during night, twilight, and inclement weather. 
Buildings That Need Aviation Obstruction Lighting
According to the International Civil Aviation Organization (ICAO), high-rise buildings and other structures that are hazardous to aircraft need to have aviation obstruction lighting. Different building heights require a different intensity of obstacle lights or a specific combination.
The list includes buildings and structures such as:
telecommunication towers; 

industrial chimneys;

construction cranes;

power lines; 

skyscrapers;

water storage tanks;

lighthouses;

wind turbines;

bridges; and 

other prominent obstructions.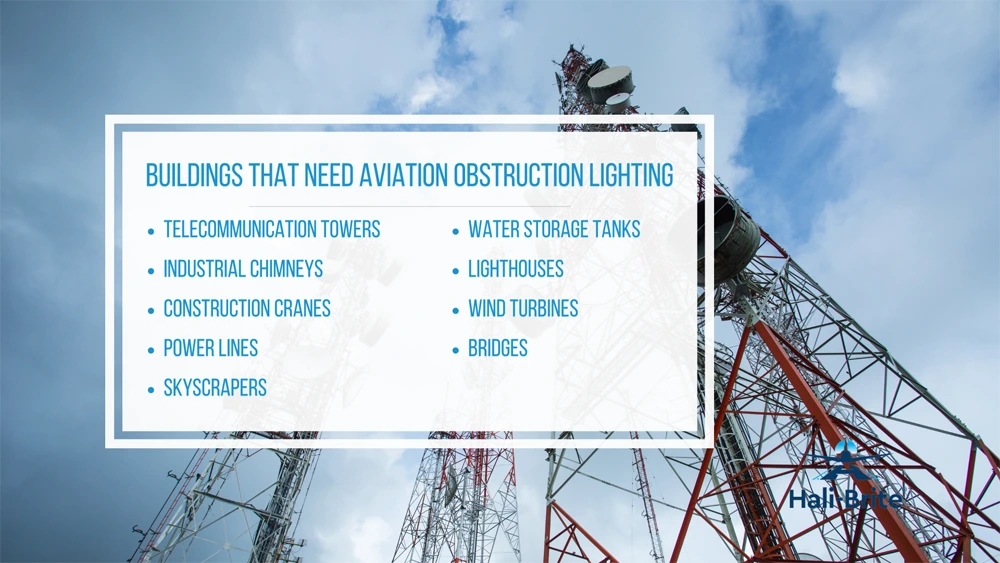 Types of Obstruction Lighting
The Federal Aviation Administration (FAA) classifies obstruction lighting into three main types and under them several subtypes. They are as follows:
Low-Intensity Obstruction Lights
These fixed lights are the simplest lighting devices. They are switched on at night and meant for buildings less than 45 meters in height. 
This type has two subcategories: Type A and B. Type A is meant for standalone use and usually has a burning red light with an intensity of more than 10 candela (cd). Meanwhile, Type B also has a burning red light in combination with medium-intensity or high-intensity lights. Most type B light has an intensity of more than 31 cd. 
Some buildings or structures also use Type E lights, which have a red flashing light with an intensity greater than 32 cd. Type E's flashing rate is usually the same as the flashing rate of the beacons installed on the structure. It can be used alone or with Type B medium-intensity obstacle lighting. 
Medium-Intensity Obstruction Lights
Medium-intensity lighting is meant for buildings that are 45 meters or higher. It has three subtypes. 
Type A has a white flashing light with an intensity of 20,000 cd for daytime and 2,000 cd for nighttime use. 
Type B has a red flashing light and 2,000 cd intensity for night mode. They can be used alone or in combination with Type B and Type E low-intensity obstacle lights.  
Meanwhile, Type C has a steady burning red color with 2,000 cd intensity and most often utilized at night. It can be used alone or with Type A medium-intensity obstacle lights. 
High-Intensity Obstruction Lights
If a building is 150 meters high or taller, it must use high-intensity lighting. High-intensity obstruction lights must not produce disconcerting dazzles that may cause discomfort to the pilot's vision. They are used only on specialized applications, as the National Aviation Authorities require. 
Type A has a white flashing light with different intensities– 200,000 cd for day mode, 20,000 cd for twilight, and 2,000 cd for night use. 
On the other hand, Type B has a white flashing light and comes with several modes of varying intensity– with 100,000 cd for daytime use, 20,000 cd for twilight mode, and 2,0000 cd for night mode. 
Some buildings also use red lamps instead of white. They can be constantly illuminated or flashing in a cycle of a few seconds. 
Other Aviation Safety Equipment Outside the Airport
Aside from AOLs, some structures or buildings also employ other warning lights so pilots can spot them from a distance. Some non-standard aircraft warning lights include:
Conductor marking lights

– which improve the visibility of overhead power lines. 

Overhead wire markers

– used on overhead lines near airfields or at river crossings where there might be float-equipped aircraft. 

Magnetically-powered beacons

– used in medium and high voltage lines as warning devices. 

Skybeamers

– act as a lighting device and are mounted on small masts on top of the tower. 
Secure Your Building With Hali-Brite
Installing aviation obstruction lighting is one of the best ways to safeguard your building or structure from passing airplanes. 
We at Hali-Brite are aware of the need for an adequate lighting system for buildings and structures near airports. That is why we provide innovative solutions and high-quality lighting equipment with FAA certification. To receive a free quote, get in touch with us and we'll go over your options. 
For more tips and interesting stories about the aviation industry, check out Hali-Brite's Blog, where we publish relevant articles regularly.