Nowadays, air travel has become an essential mode of transportation for millions of people around the world. With the continuous growth of the aviation industry, there has been an increasing demand for properly constructed airfields that provide a safe and efficient platform for aircraft to take off and land.
Airfield construction requires meticulous planning, execution, and compliance with numerous standards and regulations. This article will outline the critical steps on how to build and register an airfield.
Planning
Finding the Right Location
Finding the right location for an airfield requires careful consideration of several factors. The site must be spacious enough to accommodate the runway and essential infrastructure, such as hangars and fueling stations. The location should also be easily accessible and free from obstructions, such as buildings and trees, and other obstacles that may affect the safety and efficiency of the airfield.
Obtaining Necessary Permits and Approvals
Before starting airfield construction, it is necessary to obtain the required permits and approvals from both local and national authorities. Notifying the Federal Aviation Administration (FAA) about the proposed airfield construction is mandatory, and it can be done by filing a Form 7480-1, Notice of Landing Area Proposal with the nearest FAA Airport District/Field Office or Regional Office.
In addition to notifying the FAA, you must inform your state aviation agency separately and comply with all relevant local laws, ordinances, and state regulations.
Budgeting for Construction and Ongoing Maintenance
Building an airfield can be quite expensive, so it is crucial to create a comprehensive budget for the construction phase. The budget must account for the cost of materials, labor, equipment, and essential infrastructure, such as airfield lighting systems and fueling stations. Allocating a budget for ongoing maintenance and repairs is also necessary to ensure the continued operation of the airfield.
Design and Construction
Hiring an Experienced Engineer/Architect to Create the Design
Hiring an experienced airfield engineer or architect can help you create an airfield design that meets all the FAA safety and operational standards. They will ensure that the layout complies with regulatory requirements and incorporates all the necessary airfield infrastructure.
Choosing the Right Materials
Choosing the right materials for your airfield is critical to its longevity and safety. Runways and taxiways must be constructed with materials that can withstand the weight of aircraft and heavy equipment, as well as the impact of weather and other environmental factors.
Ensuring Proper Drainage and Grading
Proper drainage and grading are crucial in preventing water accumulation on the runway and taxiways, which can lead to aquaplaning. The airfield design must include a grading plan to ensure proper water runoff and drainage systems to prevent water buildup and erosion.
Building Any Necessary Safety Structures
In addition to the runway and taxiways, an airfield requires additional structures to ensure safety and efficiency. These structures include fueling stations, hangars, and airport lighting systems, such as rotating beacons, airport windsocks, and runway and taxiway lightings, which guide pilots during takeoff and landing.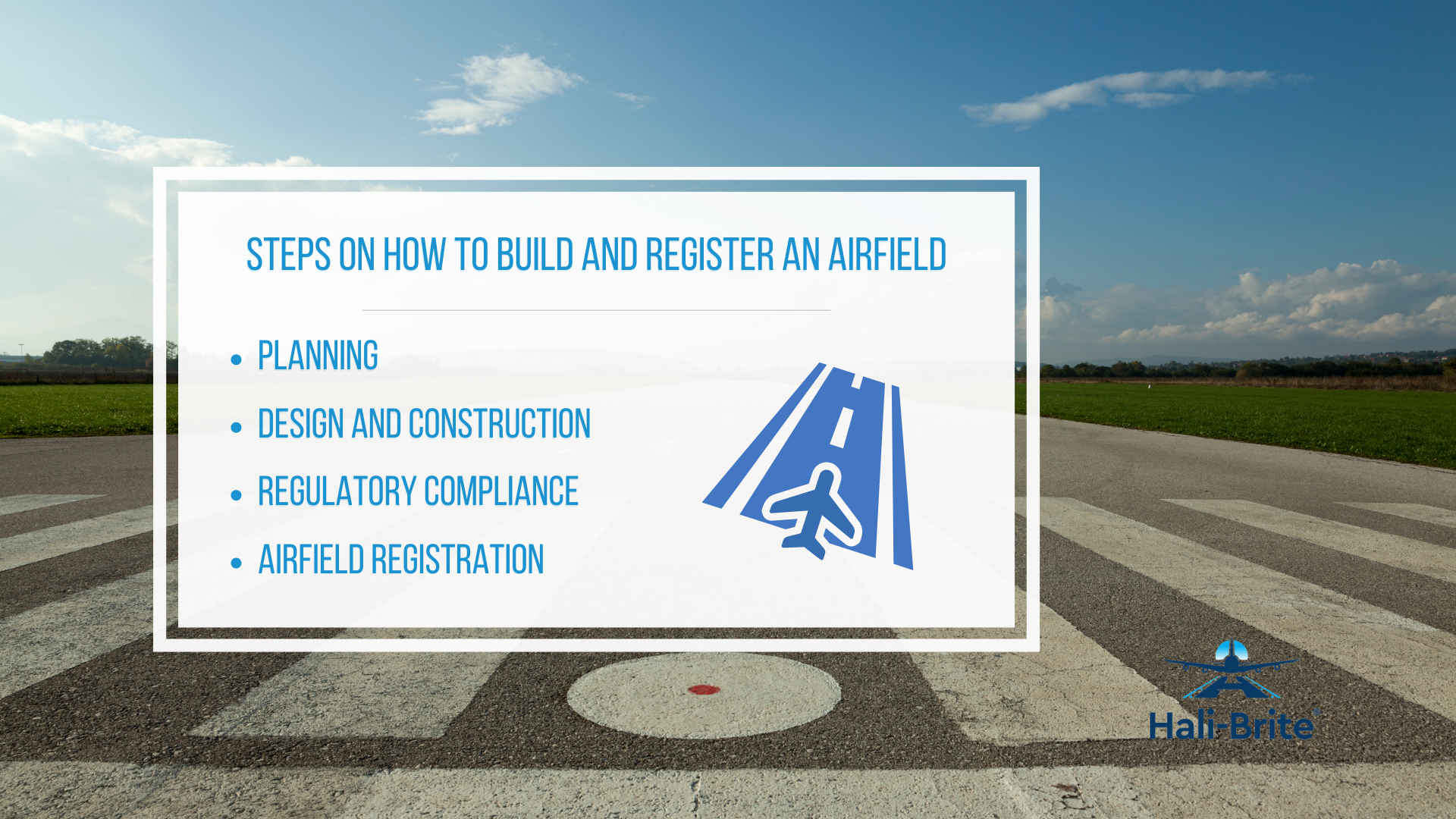 Regulatory Compliance
Meeting Local and National Aviation Regulations
The proposed airfield must comply with various local and national aviation regulations, including those set by the FAA and other relevant agencies. These regulations cover everything from the design and construction of the airfield to its operation and maintenance, as well as land use, zoning, and environmental requirements.
Obtaining Necessary Insurance and Certification
As protection against any potential accidents or incidents, it is important to have proper insurance coverage in place. Liability insurance is one of the most critical types of insurance for an airfield, providing coverage for damages or injuries that may occur on the airfield property, including those caused by aircraft accidents, negligence, or other incidents.
Furthermore, the airfield must obtain certification from the FAA to operate legally, such as an Airport Operating Certificate, which allows the airfield to conduct air transport operations.
Regular Inspections and Maintenance
The FAA mandates annual inspections of all airfield infrastructure. During these inspections, FAA inspectors will assess the condition of the airfield's pavement, markings, lighting, navigational aids, and other infrastructure to ensure continued compliance and safe operation.
Airfield operators are also required to perform regular maintenance, repairs, and upgrades to keep the airfield in a safe and operable condition. Maintaining airport lighting systems, for example, ensures that each lighting aid provides adequate visibility for pilots during night operations. 
Registering the Airfield
After ensuring that all necessary requirements have been met and the airfield construction is finished, you may proceed with the registration of your airfield with both the FAA and your local aviation authority.
Newly established public-use airfields are required to submit Form 5010-3 to notify the FAA that the facility is now operational. Form 5010-5 is required for private-use airfields. These forms will require you to provide detailed information about the airfield, including its location, facilities, operational characteristics, and ownership.
Upon submission, the FAA will issue a Location ID and Site Number, allowing you to register the airfield in your state. Once the state registration and licensing are completed, aircraft operations may begin.
How Hali-Brite Can Help
When constructing a new airfield, it is crucial that all infrastructure, including airport lighting systems, adheres to the FAA standards. Here at Hali-Brite, we guarantee that all our lighting solutions are FAA-compliant, ensuring the safety of your airfield. If you need high-quality and efficient airport lighting equipment, don't hesitate to call us at (218) 454-0956 or contact us here.