Private airports outnumber commercial and public airports in the United States. Many of these smaller airports are used to house and operate private jets. Meanwhile, some belong to flight schools and are used to train new pilots. 
This article discusses private airport lighting and safety devices that must be installed in your private airport for seamless operations and incident avoidance.
Does the FAA Regulate Private Airports?
The Federal Aviation Administration (FAA) regulates all areas of U.S. civil aviation. Most of their work involves issuing and enforcing regulations for manufacturing, operating, and maintaining aircraft. They also set the minimum standards for these processes and give airports and airmen under air carriers their certifications. 
While they do not have procedures for building private airports, they recommend following design standards that they implement in public airports. FAA direction can also apply to the required lighting and safety devices for private airports.
Can Anyone Have a Private Airport? 
Statista states that the U.S. has around 5,217 public and 11,901 private airports. Anyone can build a private airport provided they gain clearance from local authorities and zoning and use permits. 
Additionally, they must notify the FAA of their intention to construct, alter, or permanently shut down an airfield. With the help of this rule, the FAA can track and maintain all airport data, making it easier to locate and fix possible airspace issues.
However, the FAA does little to control or monitor private airport facilities, relying on private airport owners to report on their own accord. Every state, though, has its own set of rules, and often there are state transportation agencies that oversee and place limitations on small private airports.
Private Airport Lighting Recommendations
Airports rely on standard lighting to improve the visibility of obstacles and guide the pilot's maneuver during the night or in bad weather. Below are examples of lighting that are required in a private airport:
Runway Edge Lights

should be placed on two parallel rows equidistant from the runway's centerline and go through its entire length.
Threshold Lights

mark the end of the runway. The green light marks the landing threshold for arriving aircraft, while the red light marks the end of the runway for departing aircraft. 
Taxiway Edge Lights

that emit blue light define the apron's or taxiway's lateral limits. 
The Precision Approach Path Indicator (PAPI)

gives visual approach slope information. It helps pilots determine if the aircraft is low or high on the ideal glide path.
Approach Lighting System

helps the pilot transition from instrument flight to visual flight when landing the aircraft.
Runway End Identifier Lights

are made up of two synchronized flashing lights at each side of the airport's runway threshold. 
Lead-in Lighting System

guides airplanes along an approach path where they might be hazardous terrain or obstacles.
Check out Hali-Brite to learn about other airport lighting and equipment you can add to your private airport to improve safety. 
We provide you with various airport lighting solutions and devices, including rotating beacons, wind cones, runway closure markers, and solar power supplies. The Obstruction Light L-810, for example, is a perfect warning device for tall structures. 
Our products can help you get aerodrome certification from the International Civil Aviation Organization (ICAO) and FAA. The certification ensures that an airport complies with these agencies' recommended practices and adheres to international standards.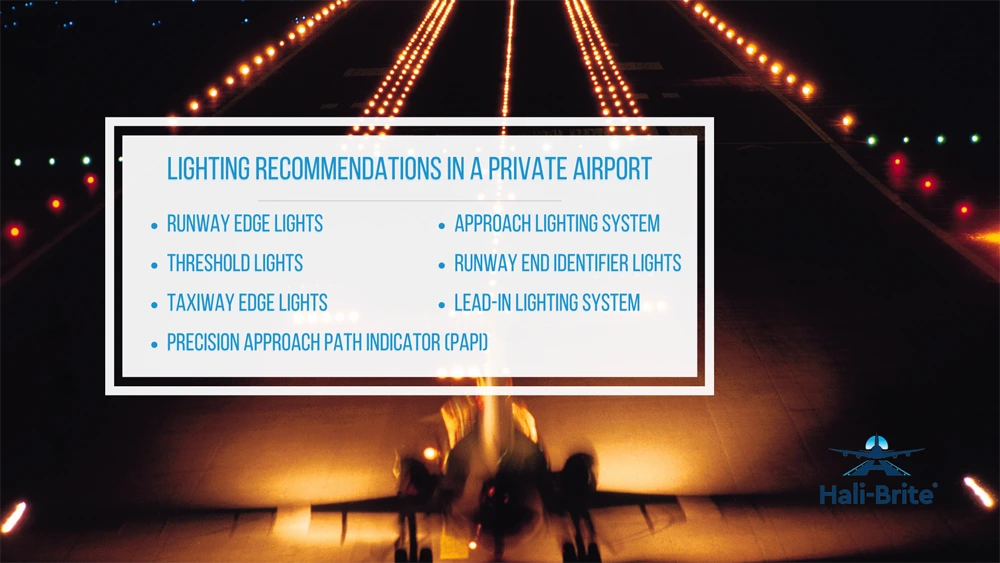 Private Airport Safety
The FAA has a few recommendations on how the private airport should be built, including the lighting and warning devices it must have. These standards are found in their Advisory Circular 150/5300-13 under the Airport Design section.
Additionally, private airports must follow local laws and structural safety guidelines. Installing a proper lighting system helps with improving the overall safety.
What About Private Heliports?
A private heliport should have a minimum of one Touchdown and Liftoff (TLOF) area centered in a Final Approach and Takeoff (FATO) area, one or more approach and departure tracks, and a surrounding safety area.
Light Your Airport the Hali-Brite Way
Private airport lighting is vital to improve the visibility of the runway, obstacles, and other essential parts of the airport. It's a good investment considering that it is integral to the airport's operation and safety.  
At Hali-Brite, you will find ingenious airport lighting solutions that are FAA and ICAO-compliant. Our high-quality lighting and warning device products will increase the safety and efficiency of your airport or heliport. To receive a free quote, get in touch with us today.
Visit Hali-Brite's Blog to get more news about the aviation sector. We constantly post fascinating articles there.