Did you know that there are over nine types of airports? Each one provides a specific function. Fortunately, you do not have to know the different types as we've conveniently grouped them all into two categories: 
Civilian Airports

Military Airports
These two serve as parent airport types. Here, we'll cover their core differences — from civilian and military airport beacon lights to emergency use cases and facilities.
Table of Contents
The Military Airport vs. Civilian Airport
A military airport, often known as an airbase, is an aerodrome used by military personnel to conduct military aircraft flight operations. A military airbase has various aircraft facilities, including air traffic control, aircraft maintenance, emergency response facilities, weapon storage, and briefing rooms for military operations.
Some military aviation bases have built revetments or protective aircraft shelters to safeguard military aircraft from potential enemy attacks. Revetments are blast wall-protected parking spaces for single or multiple military aircraft. When revetments are not used then often military aircraft will be housed in hardened aircraft shelters, which are fortified hangars that protect against heavy weapon attacks. Most air bases are also equipped with anti-aircraft warfare systems to defend themselves against aerial attacks from hostile enemies.
In comparison, civilian airports are landing and take-off locations for commercial and private flight operations. A civilian airport must strictly follow the regulations and standards set by the International Civil Aviation Organization (ICAO) to provide flight operations services. Civilian airports are utilized for either commercial or general aviation flights.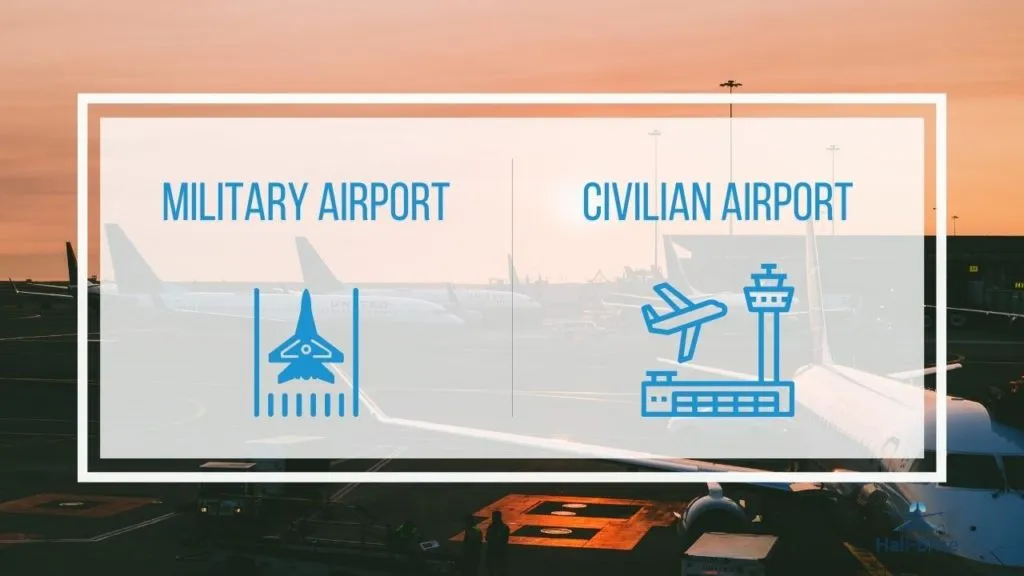 Commercial Air Transport
Commercial air transports are aircraft flight operations, either scheduled or chartered, involving passenger or cargo transport services available to the public for remuneration or hire. The aircraft carrier offers you flights with a fixed departure time and itinerary in a scheduled flight. While in a chartered flight, you rent the entire aircraft, allowing you to set your preferred flight schedule.
General Aviation
General aviation encompasses all civilian flight activities other than commercial air transport operations. These activities include instructional, business, personal, recreational, tourist, aerial work, and other flight operations.
Civilian airports generally have a larger operational area and more facilities than military airports. Civilian airports have several runways that can accommodate multiple aircraft. And like military airports, civilian airports have air traffic control, aircraft maintenance and repair, and emergency services. 
Civilian airports have terminal buildings that provide airport services to passengers, such as flight check-ins, baggage drop-offs, and waiting areas. Some civilian airports, particularly commercial airports, have amenities such as restaurants, lounges, and retail shops to provide passengers with comfort and convenience.
Joint-Use Airports
In some cases, civilian aircraft operations are allowed in military airports. Such airports are referred to as joint-use airports. Joint-use airports benefit both the government and civilian individuals economically by sharing airport facilities. Here is a list of joint-use airports in the US:
Air Force
AF Plant 42, Palmdale, CA

Charleston AFB, Charleston, SC

Dover AFB, Dover, DE

Eglin AFB, Valparaiso, FL

Grissom AFB, Peru, IN

Kelly/Lackland AFB, San Antonio, TX

March ARB, Riverside, CA

Scott AFB (Mid America), Belleville, IL

Sheppard AFB, Wichita Falls, TX

Westover ARB, Chicopee, MA
Army
Blackstone AAF (Ft. Pickett), VA

Camp Guernsey AAF, Guernsey, WY

Dillingham AAF, Waialua, HI

Forney AAF (Fort Leonard Wood), MO

Robert Gray AAF, Ft. Hood/Killeen, TX

Grayling AAF, (Camp Grayling), MI

Libby AAF (Ft. Huachuca), Sierra Vista, AZ

Sherman AAF, (Ft. Leavenworth), KS

Sparta/Fort McCoy (Sparta), WI

Wright AAF (Fort Stewart) Midcoast Rgnl, Ft Stewart/Hinesville, GA
Navy
The Military Airport Rotating Beacon
Adequate lighting systems are necessary for airport operations. The Federal Aviation Administration (FAA) provides standard guidelines on airport lighting systems that every airport must adhere to. Airport lighting provides visuals to the pilots during navigations, particularly during night flights. An airport can utilize a variety of lighting aids depending on the complexity of its operations. 
A military airport rotating beacon is one of the lighting equipment used in military airfields. The light flashes of a military airport beacon distinguish it from civilian airport beacons. The flash sequence for military airport beacons alternates two white flashes between green light flashes at a frequency of 16-20 times per minute. 
The Airport Beacon
An airport beacon is one of the lighting equipment that allows pilots to pinpoint the location of an airport during flight navigations at night. Airport beacons are built following the standards required by the FAA.  
An airport beacon can be an omnidirectional capacitor-discharge device or a device that rotates at constant speed producing flashes at regular intervals. Light flashes are displayed in different color combinations, indicating the type of airport.
Here is a summary of the color combinations and the frequency of flashes for each type of airport:
Color Flashes

Frequency of Flashes

Type of Airport

White and Green

22 to 26 fpm

Land Airports

White and Yellow

Water Airports

Green, Yellow, and White

33 to 39 fpm

Heliports

Two White, and Green

16 to 20 fpm

Military Airports
All Your Civilian and Military Airport Needs in One Place
Whether you handle military or civilian airport maintenance, Hali-Brite is here for you. We offer a variety of FAA-certified airport rotating beacons, including military airport rotating beacons, that correspond to your airport lighting needs. Contact us here. We will immediately respond to your queries.