The Wind Cone specifications for airports based in the United States are set by the FAA in Aviation Circular 150/5345-27E – Specification for Wind Cone Assemblies. There are a variety of requirements and you should review the PDF linked here for complete information.
Here are highlights:
The wind cone must be designed to operate in temperatures between -67 and 131 degrees Fahrenheit, and wind speed up to 86 mph.
The wind cone must take the shape of a truncated cone when it is filled with air, be reinforced at all points that are subject to abrasion by flexing against the metal framework, be designed to allow removal and replacement without the use of special tools. The fabric windsock must be constructed to allow water drainage out of the area of the basket assembly.
The minimum length and throat diameter of the wind cone:
Size 1 – 8′ long X 18″ throat diameter.
Size 2 – 12′ long X 36″ throat diameter.
The windsock must fully extend in 17mph wind.
The Color of the wind cone may be white, yellow, or orange. No lettering or logos are allowed on the windsock.
The windsock must rotate freely when subjected to 3.5 mph wind and indicate the true wind direction within +/- 5 degrees.
The wind cone must be illuminated at night with either internal or external lights. Lights must be aimed to minimize unwanted glare to aircraft pilots.
What is the difference between L-806 and L-807 Wind Cones?
L-806 and L-807 actually refer to the structure that the wind cone is mounted on. "Low mass" support structures (L-806) can be used with Size 1 or Size 2 wind cones. "Rigid" support structures (L-807) can only be used Size 2 wind cones. In other words:
Size 1 Wind Cone – 8 feet (2.5 m), for use with Type L-806 and L-807 structures.
Size 2 Wind Cone – 12 feet (3.75 m), for use with Type L-807 structures.
The L-806 type support must be low-mass and designed for easy installation and maintenance. The L-806 must withstand 350 pounds of force without damage and fail before reaching 700 pounds of force when applied parallel at a height of 6 feet. The L-806 must be a minimum of 6′ and a maximum of 10′ tall.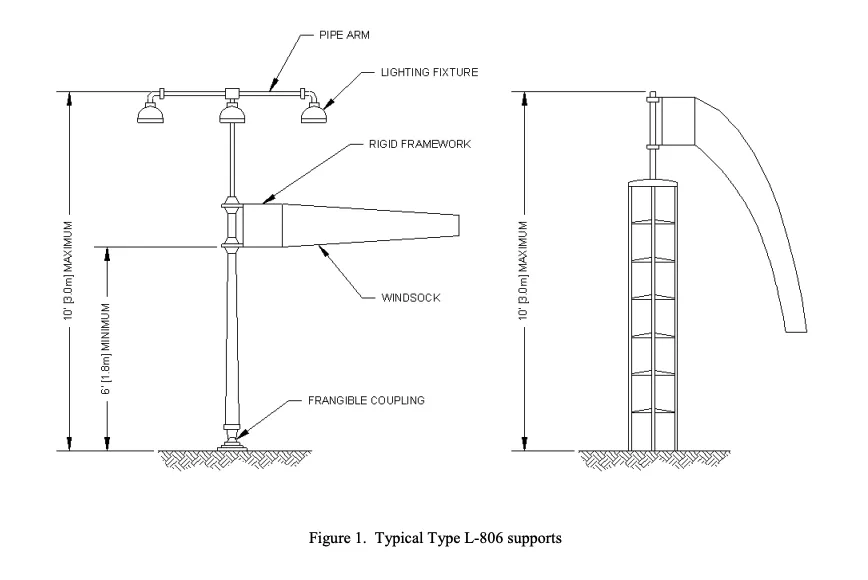 The L-807 type support may be hinged at its base or near its middle so the wind cone and light fixture can be serviced from the ground. It must withstand, without damage, 3200 pounds of force when applied parallel at 16 feet high. The L-807 must raise the wind cone 16′ off the ground. The L-807 support may only be used where allowed by airport design standards published in AC 150/5300-13, Airport Design.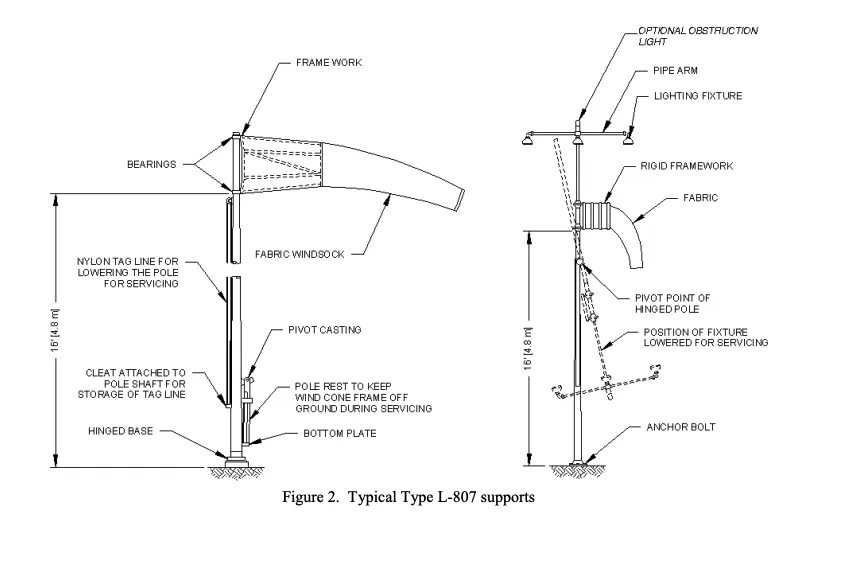 Upcoming Changes to Wind Cone Specifications
A proposed update of AC 150/5345 was released as a draft on October 09, 2020. The principal changes include:
1. Added a reference to Engineering Brief 67 for Light Sources other than incandescent and xenon for Airport and Obstruction Lighting Fixtures.
2. Reformatted drawings for L-806, L-807, and internally lighted wind cone support structures.
3. Updates the Application paragraph.
4. Updates the overall layout of the document and makes minor editorial changes throughout.
Click the following link to view the updated/draft version of AC 150/5345-27F.