Properly installed lighting equipment is one of the requirements that the Federal Aviation Administration (FAA) looks for before you can operate an airport. It's one component of any airport that must be done right since proper lighting is essential for the safety and convenience of everyone. 
If you want seamless airport lighting and safety, you need reliable lighting equipment to provide the best visibility. The lighting system must also be installed at the best spots to maximize the illumination they give to your runway and other crucial airport areas. 
Why Hire a Professional Airport Lighting Equipment Installer
Hiring a professional airport lighting equipment installer gives you the peace of mind that the project will be finished on schedule. More importantly, they can ensure that every detail and specification of the project will be followed to the letter. 
Moreover, a professional airport lighting installer is trained and has the right equipment to ensure that the installation process is correct. They can also help replace some of your old or defective lighting equipment with little to no interference with your airport's daily operations. 
The approach lighting system installer can offer airport operators and owners comprehensive technical support. Additionally, they can increase the reliability and efficiency of the lighting infrastructure by implementing the best installation practices recommended by government regulators.
Hiring a professional lighting equipment installer is a good decision since they have a track record they can show to their clients. Hence, you can easily research their work quality and effectiveness at finishing projects.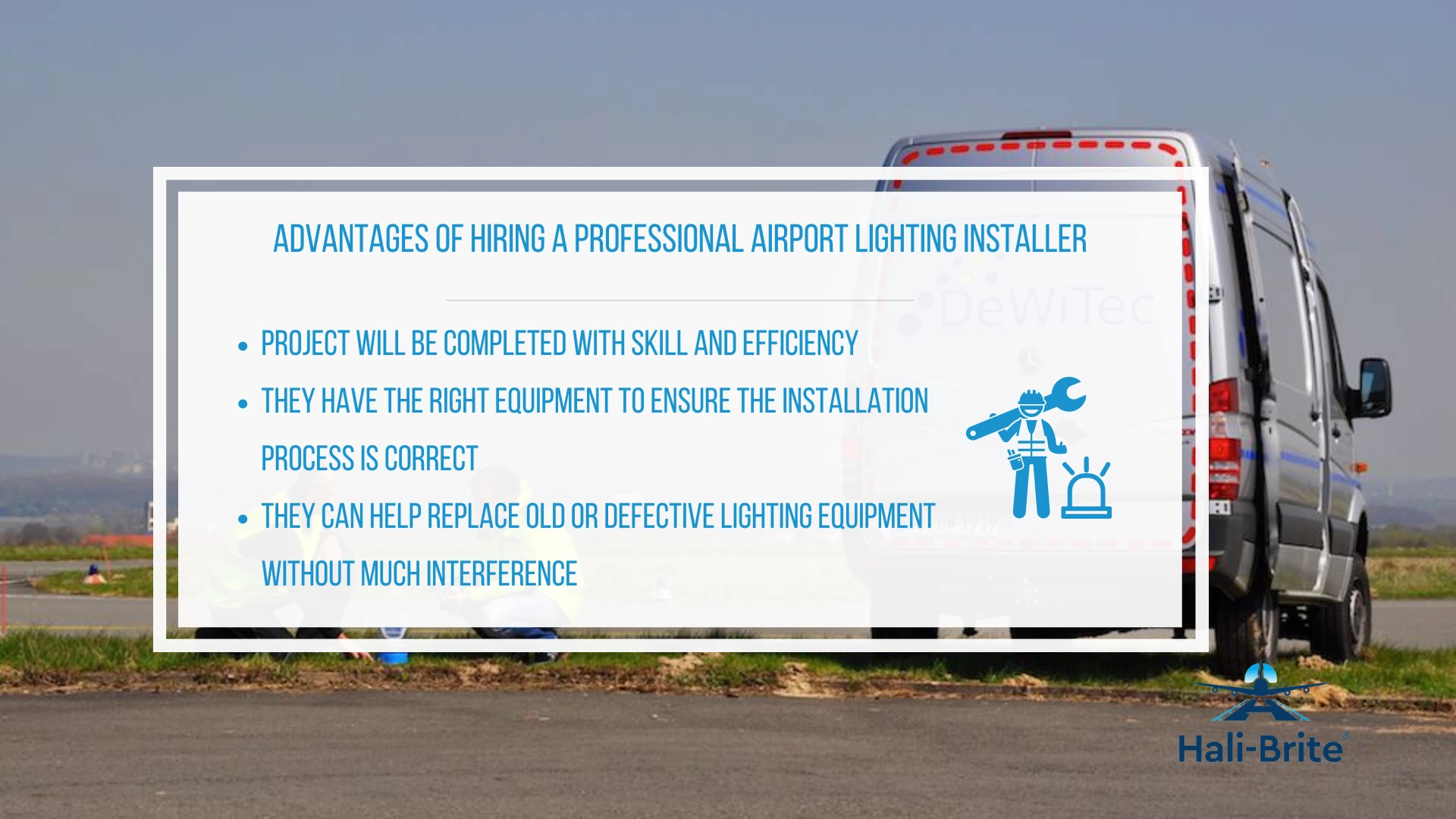 How to Identify a Qualified Airport Lighting Installer
Not all airport lighting installation companies are the same. Some are more qualified than others, especially if they have been in the aviation industry for a long time. However, the company's age should not be the only determining factor while reviewing prospects.
Below are some of the things you should look for in an airport lighting installer:
Look for an FAA and the International Civil Aviation Organization (ICAO) certification. Doing so will ensure they are knowledgeable about the installation process and have the right tools for the job. 

Check for their client history and if they have previously done lighting installation at other airports. Moreover, you can contact the operators of the said airports and ask if they are satisfied with the performance of the installers. 

Visit their website or social media pages to get an idea of their current or recent lighting projects. The pictures they post and other types of content will give you an idea of whether they are qualified for the job. 

Do your due diligence and ask the opinions of contractors or subcontractors you have worked with if the installers have a good reputation or not. However, ensure that the contractors you are interviewing are not directly competing with the said installers. 
Airport Lighting Equipment Certification Program
The Airport Lighting Equipment Certification Program (ALECP) allows third-party certifiers approved by the FAA to license suppliers and certify airport lighting equipment that meets the agency's specifications.

The ALECP is designed to give airport lighting manufacturers a list of recognized certification bodies and to supply airport stakeholders a list of qualified ground lighting products that guarantee a dependable, uniform airport environment.
Before getting certified, lighting equipment must comply with all the design and performance requirements. These products' quality is assessed yearly by a third-party certification body. 
Can You DIY Airport Lighting Installations?
Airport lighting installation can be complicated, and it's not recommended to do it yourself. Airport lighting aids that need to be installed must first be approved by the FAA and comply with strict installation guidelines. 
In addition, any airport lighting installation projects are encouraged to follow a layout designed by a capable airport engineer, ensuring that the lighting provides the best visibility without obstructing crucial parts of the airport, especially the runway. 
Get the Best Airport Lighting Equipment With Hali-Brite!
Hiring a reputable airport lighting equipment installer is vital in keeping your airport operational and safe for everyone who uses it. Hence, you must be meticulous about which company you should give the lighting project to. 
Hali-Brite is one of the best airport lighting equipment providers in the market. We offer a wide selection of lighting solutions that are reasonably priced and approved by the FAA. Our company can also recommend the best airport lighting equipment installers. Contact us today to get a quote! 
Visit Hali-Brite's Blog to get the latest trends in the aviation industry. We also publish helpful guides for airport operators and owners.