The Downtown Manhattan Heliport (DMH) is a well-known landing and take-off point for helicopters in New York. The DMH, which provides tourist sightseeing services, is the place to go if you want to see a beautiful aerial perspective of the entire city. Due to its advanced heliport lighting system and unique location, several filmmakers often include the DMH in their movie scenes. In this article, you will learn more about the Downtown Manhattan Heliport, including its history, heliport amenities, and services.
Table of Contents
The Downtown Manhattan Heliport
Heliports are designated landing and take-off areas for helicopters. Like an airport, a heliport has hangars, fuel and aircraft maintenance, an air traffic control tower, and other air support facilities and services. Though not as large as commercial airports, some heliports have terminal buildings with passenger waiting areas.
The Downtown Manhattan Heliport (DMH) is one of the world's most advanced and well-known heliports. It offers convenient and enjoyable helicopter services for business executives and leisure sightseers, allowing them to experience the spectacular views of New York from high above.
DMH Brief History
DMH's operation started on December 8, 1960. Since then, it has pioneered several heliport services and facilities that are now standard for most heliports in the US.
The DMH was the first heliport in the US to get certified by the Federal Aviation Administration (FAA) to provide scheduled passenger helicopter services. Not only was it the first public heliport to use a semi-automatic firefighting foam system, but was also the first to employ a barge as a landing and take-off zone for helicopters.
DMH is the only heliport with Federal Aviation Regulation (FAR) Part 139 certification, among other heliports in the country. This certification signifies that the DMH has met the safety requirements established by the FAA – from heliport lighting to safety equipment.
DMH Facility
DWH has an 84,000 square feet area, with a 550 ft. x 85 ft. pier and a 90 ft. x 300 ft. barge. The parking area can accommodate 12 helicopters on the barge and 18 automobiles in the parking lot. DMH also has a terminal building with amenities comparable to airport terminals, including a VIP lounge, a passenger waiting area, and retail shops. 
The DMH terminal is one of the most advanced heliport terminals in the country, with features that provide customers with utmost comfort and convenience. These features include year-round heating, air conditioning, ventilation, and heliport lighting. 
Heliport Lights, Camera, Action
The DMH has been featured in several films and television shows. Among them were Hollywood blockbusters, including the 1997 movie Fools Rush In, Michael J. Fox's For Love or Money, and the TV series hit White Collar. The recent critically acclaimed HBO series Succession, which follows the story of the Roy family, showcased multiple helicopter rides from the DMH within its film.
Directors and production companies have used DMH as the setting in some of the most memorable scenes of their films due to its convenient and appealing position, making this helicopter landing site well-known and admired worldwide.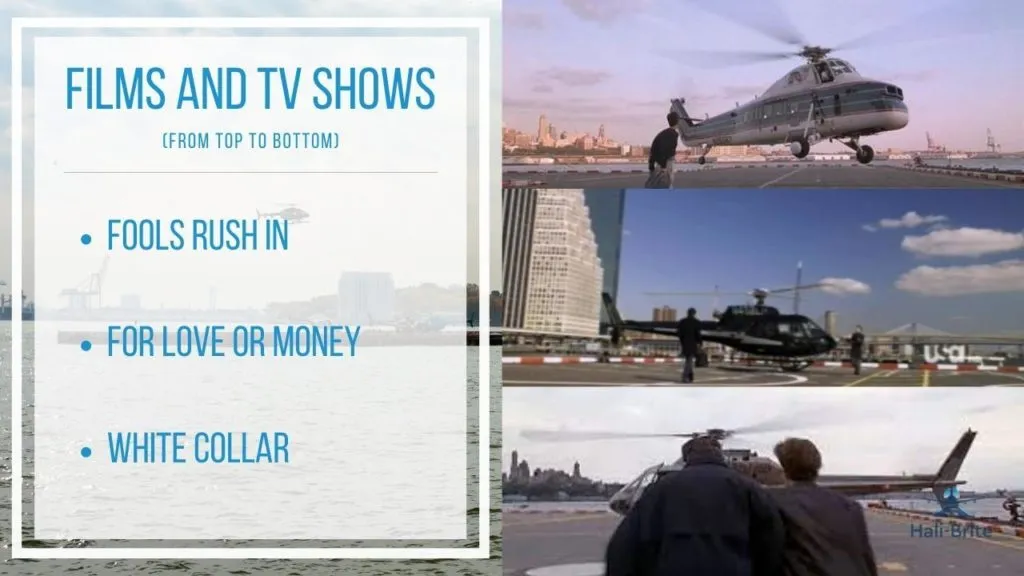 The Lone Helipad
The DMH only has a single helicopter landing pad, also known as a helipad. However, its wide barge parking area can accommodate up to 12 helicopters.
Helipad vs. Heliport
Helipads are the landing and take-off zones for helicopters. Though a helicopter can land on any type of flat surface, a helipad offers a secure and stable area free from any obstacles. Helipads can only allow one helicopter landing and take-off at a time.
A heliport, on the other hand, functions similarly to an airport. Heliports can support the landing and take-off of several helicopters. In addition, heliports feature terminals and maintenance facilities. A heliport must also follow the regulations set by the FAA, which include the installation of standard lighting equipment.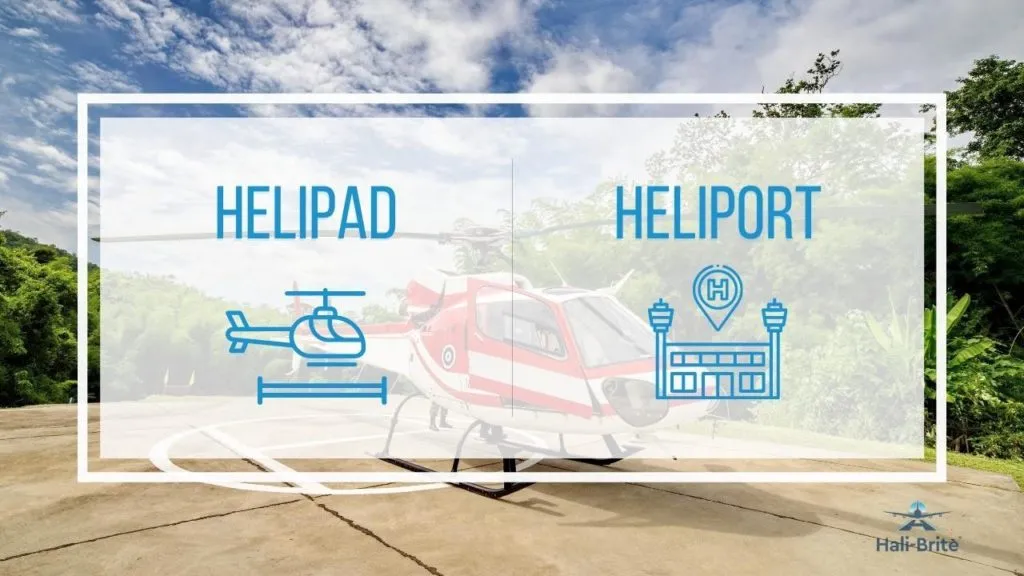 Heliport Lighting
Heliports must have lighting equipment intended for the safety of helicopter landings and take-offs during night operations. As the FAA requires, heliport lights that indicate the Final Approach and Take-off (FATO) and Touchdown and Lift-off (TLOF) areas must be installed. These lights will provide visuals for the pilot to land in the appropriate landing area during nighttime. Other heliport lights may also be required, including:
Wrapping Up
If you are interested in acquiring heliport lighting equipment, we got you covered. Our heliport lighting systems here at Hali-Brite strictly adhere to the FAA guidelines. We offer a variety of aircraft lights and guarantee that they are high-quality and cost-efficient. Get a free quote today by contacting us here.